Impulse Dynamics Recognized with Frost & Sullivan's 2016 New Product Innovation Award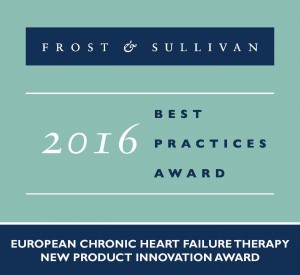 September 12, 2016 – Impulse Dynamics, developer of the Optimizer™ IVs implantable device for the treatment of Chronic Heart Failure (CHF), is the recipient of the prestigious Frost & Sullivan 2016 European Chronic Heart Failure Therapy New Product Innovation Award.
Based on a recent analysis of the European chronic heart failure therapy market, Frost & Sullivan, a global research and consulting firm with over 50 years of experience identifying innovation and growth opportunities, concluded that Impulse Dynamics' introduction of Cardiac Contractility Modulation (CCM) therapy marks an important advancement in the development of therapies for managing various stages of cardiac failure.
CCM Therapy is based on delivering non-excitatory electric pulses to the heart muscle to initiate multiple biochemical and neurohormonal changes in the myocardium. As a result, the contractility of the myocardium increases with no concomitant increase in oxygen consumption so that the heart works more efficiently but not harder. CCM is delivered by the Optimizer Device, which has already been successfully launched in Europe and is available in cardiology centers in various countries. CCM therapy has been implanted in over 3,000 patients to date and is the only device therapy available for patients with a narrow QRS complex.
"With increasing prescriptions for the therapy, clinical recommendations, and demonstrated improvement in patients' quality of life, Impulse Dynamics has proven itself to be a game changer in the treatment of chronic heart failure" said Arjunvasan Ambigapathy, Industry Analyst at Frost & Sullivan.
"Receiving the 2016 Product Innovation Award from Frost & Sullivan is a great honor for Impulse Dynamics" said Dr. Simos Kedikoglou, Chief Executive Officer of Impulse Dynamics. "This type of industry recognition is another reaffirmation that CCM addresses a significant unmet need in the treatment of chronic heart failure. We are committed to continue to expand the market for CCM to benefit heart failure patients world wide".
About the Optimizer and CCM Therapy
CCM is the brand name for Cardiac Contractility Modulation, the non-excitatory electrical pulses delivered by the implantable Optimizer device during the absolute refractory period of the heart's cardiac cycle to improve systolic contraction of the heart. The Optimizer System has been implanted in over 4,000 patients and is currently available in the US, Europe, China, Brazil, India, and more than 40 other countries around the world. Impulse Dynamics has completed numerous clinical studies, including several randomized controlled trials, and the results have been published in over 80 articles appearing in leading medical journals.
About Impulse Dynamics
Impulse Dynamics is a medical device company dedicated to transforming the treatment of chronic heart failure. With global headquarters in Mount Laurel, N.J., the company has additional offices in; Stuttgart, Germany, Orangeburg, N.Y. and Curacao For more information please visit www.impulse-dynamics.com.
Impulse Dynamics (USA), Inc.
523 Fellowship Road, Suite 203
Mt. Laurel, NJ 08054